Speaker Wiring Diagrams
It is important to match the speaker load with your amplifier's output impedance to get maximum transfer of power and the correct load for your amp.
See Wiring Diagrams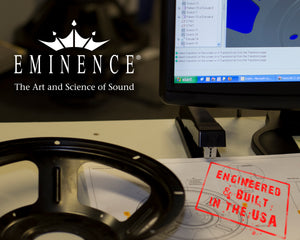 Understanding Loudspeaker Data
The ability to choose the most appropriate loudspeaker for a particular enclosure is directly related to your understanding of the performance data that manufacturers provide with their products.
Read More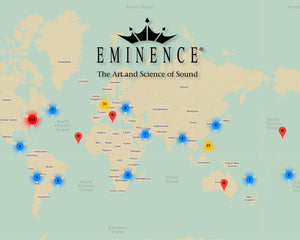 Eminence Dealer Locator
For over 50 years, Eminence has built a reputation for providing the best quality, value and service to meet our customers' needs by leveraging a world-wide network of dealer's and distributors.
Find Your Eminence Dealer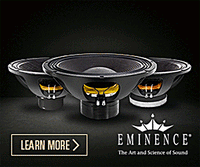 Move More Air with Less Power
The Eminence family of TOUR GRADE™ loudspeakers, designed and assembled in the USA, represents Maximum Power Handling, Maximum Displacement, Maximum SPL, and unequaled reliability. Advanced measurement systems and FEA optimization tools were leveraged to create the next generation of subwoofers.
Eminence was founded when American Muscle ruled the road. There was no replacement for displacement, and that statement still holds true for the professional audio industry.
Eminence charged the engineering team to design the best professional audio loudspeakers in the world. They responded with designs for speakers with superior performance and durability.
All about that bass! Treble Too!
You'll Wish You Started Using These Eminence Speakers a Long Time Ago
Guitar Spotlight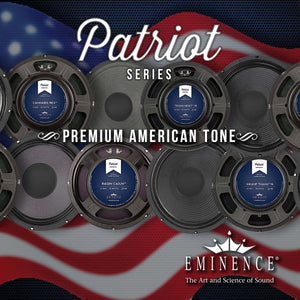 All American
Most red-blooded guitar players have a favorite amp tone they dream about. It may be a 50s twang, a
Whatever the sound, from the bayou to the blues, the Patriot series has a speaker that can deliver it. From thumping bass, mellow mid-tones or soaring highs, Patriot speakers offer different balances of that spectrum with a wide selection of models waiting to fulfil your tonal dreams.
Pick your sound, and then pick your speaker.
Pick a Patriot!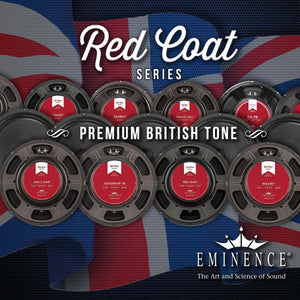 Britannia or Bust!
Ranging from 'tight and bright' to 'growling grit', there's a Redcoat model that'll bring classic sounds alive for today's players.
You know the sound. A distinctive tone that stands out in musical history. For rock, in blues, and all kinds of music, the Redcoat series captures the spirit of some of the most well-known amp tones ever recorded.
Give your sound a tonal upgrade steeped in history, and brewed with tone.
Tea Time!