Travis Toy Signature 15" Lightweight Pedal Steel Speaker.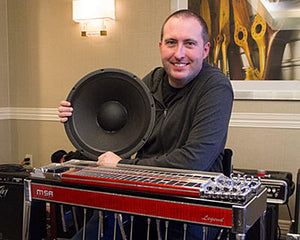 Eminence has teamed up once again with Nashville session artist and Rascal Flatts sideman Travis Toy to create a 300 watt, ultra-lightweight 15" signature pedal steel guitar replacement speaker.
The 4 Double-T 15 replacement speaker features a tight low end, a midrange bite that can cut through a mix, and detailed high end without being too bright.Toy worked closely with the engineers at Eminence to achieve these characteristics while only sacrificing one thing: WEIGHT. At a mere 7.7 lbs., the Double-T 15 is nearly 10 lbs. lighter than most ceramic magnet options. "I feel that the Double-T 15 is a marriage of all of my favorite characteristics from both 12" and 15" speaker sizes," said Toy. "You get the benefit of more air movement from a larger 15" surface area, but with the punch and cut of a 12" This is a 4 ohm speaker, so it is a direct drop-in replacement for all of the most common 15" steel guitar combo amps available, and many of the most beloved amps that have been around for years."